Escalators to Hell: Shopping Mall Horrors
There's something amiss at the mall. Elderly mallwalkers are being devoured by an unseen creature. A mad scientist is building a doomsday device out of Radio Shack parts. Post apocalypse, survivors attempt to recreate their 90s memories in a ruined mall. Each day when a boy checks Google Maps, the fancy new mall looks bigger—and closer to his village. Escalators to Hell: Shopping Mall Horrors is a new collection of horror and dark sci-fi stories about shopping malls past, present, and future.
Emerging in the United States as a paragon of post-World War II prosperity, the shopping mall was imagined as a cheery, futuristic, well-designed alternative to the messy and hazardous downtowns of old, providing housewives and children with a safe space to shop and entertain themselves. Malls served middle-class suburbanites dependent on cars and eager to spend their disposable income on mass produced goods. 
The mall has often been a subject of derision as a harbinger of cultural zombification and whitewashing. As the decades have passed, the mall has declined in prestige but also become more accessible to broader groups of people in the US. Shopping malls, too, have spread to most countries around the world. Pop-culture has viewed malls through many lenses: optimist and innovative, symbolic of racist city planning and policing, a source of nostalgia for freer spending and youthful naivety, a place for community, and a signifier of a nation's wealth and connections to a global consumer network. 
But in this collection, one thing is universal: your favorite suburban hangout has transformed into a site of unimaginable terror. Escalators to Hell: Shopping Mall Horrors is a document of one-stop shopping gone wrong.
21 Stories by 21 Authors
We've invited five featured authors to lead this expedition into suburban terror: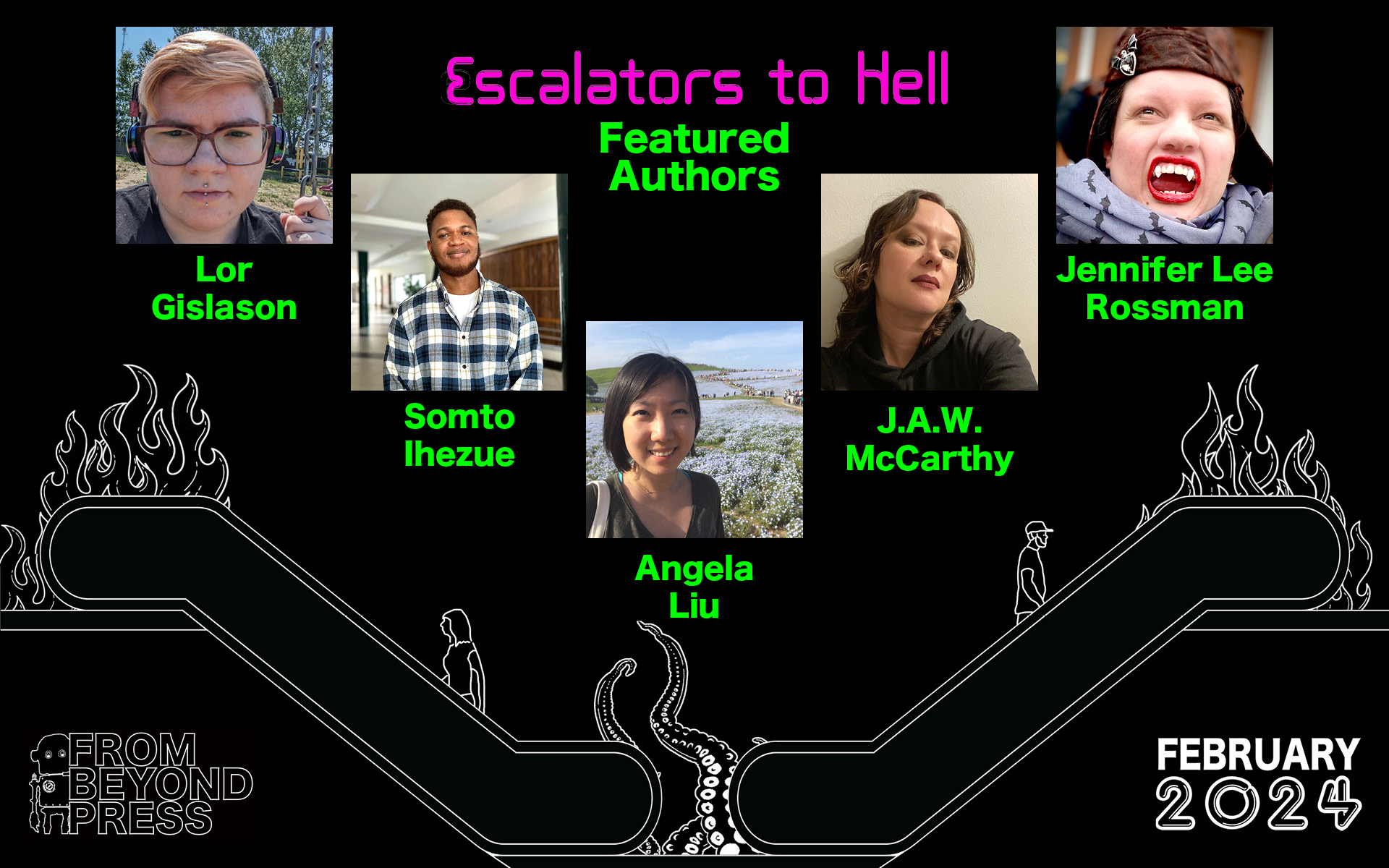 Lor Gislason – Editor of Bound in Flesh: An Anthology of Trans Body Horror and author of Inside Out and other works
Somto Ihezue – British Science Fiction Award and Nommo Award nominee poet and short story writer whose stories have appeared in publications such as Tor: Africa Risen Anthology, Podcastle, Escape Pod, Strange Horizons, Nightmare Magazine, and POETRY Magazine
Angela Liu – Poet and short story writer whose work has appeared in publications such as Clarkesworld, The Dark, Nightmare Magazine, and Strange Horizons 
J.A.W. McCarthy – Bram Stoker Award and Shirley Jackson Award nominated author whose short fiction has appeared in publications such as Vastarien, PseudoPod, Apparition Lit, and The Best Horror of the Year Vol 13 
Jennifer Lee Rossman – Pushcart and Utopia Awards nominated author whose stories have appeared in dozens of anthologies
The rest of the book (around 15 more stories) will be chosen from the open call for submissions. Stay tuned for the full table of contents.
Book release: February 2024